Transform your employee experience
Optimize your organization's performance with our strategic consultancy services that optimize structure, processes, and employee development.
We Understand Your Challenges
Our expert consultants help you navigate the complex world of organizational development, addressing key pain points like:
Employee Retention and Engagement

We'll tackle the issues of high turnover, low morale, and disengagement by identifying the root causes and implementing strategies that foster a committed and motivated workforce.

Modernizing Processes and Performance Management

We'll help you optimize outdated processes, policies, and performance management systems, creating a more agile organization that drives improvement and accurately measures success.

Effective Communication and Collaboration

We'll assist you in implementing strategies to improve communication, teamwork, and problem-solving, cultivating a culture of innovation and open information sharing.

Employee Development and Growth

We'll guide you in creating robust training programs and development opportunities, ensuring your employees' skills and capabilities grow along with your organization's success.
Customized Solutions for Your Organization's Success
Tailored Organizational Consultancy

From mapping your staff journey to optimizing internal processes, our expert consultants will work closely with you to develop a high-performance organizational structure tailored to your needs.

Impactful Employee Training and Workshops

Our practical workshops cover vital topics such as feedback, performance management, and career development, equipping your team with the skills necessary to drive your organization forward.

Advanced Performance Management with MAPERS

Streamline your performance management process with our intuitive, cloud-based platform featuring automated reviews, SMART goals, and customizable appraisal forms designed to boost employee engagement.
Your Key to Organizational Success
Discover MAPERS
MAPERS helps you create a culture of continuous improvement by setting clear objectives, nurturing employee engagement, and identifying growth opportunities. Embrace the power of MAPERS and elevate your organization to new heights.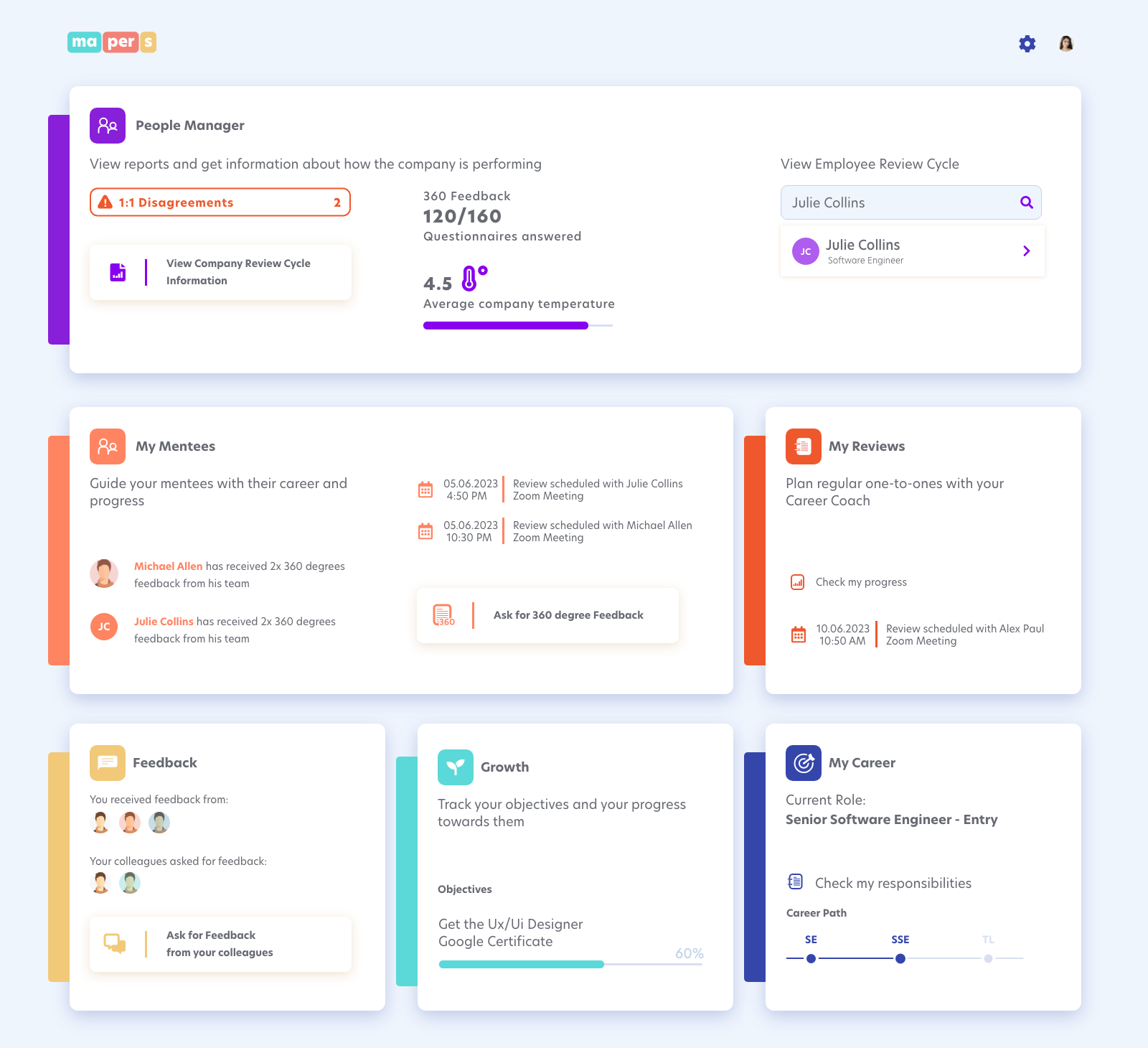 Take Action for a Thriving,
High-Performance Organization
Seize the opportunity to drive your organization forward with our tailored services and MAPERS. Book a free 120-minute exploratory meeting to discover the solutions that will propel your team to success.